How it all started?
I introduced the world of magic created by books to my little one when she was 6 months old. She gradually started showing interest and now loves reading new stories on her own. There was a phase when she detested it and I gave her space. Not forcing her to read any book has been my mantra forever. Kids are observant and often reflect what they see.
Since reading a book is a part of my daily routine, I knew the little one will catch up sooner or later. My little one is five years old and her love for books is growing with each day. She has recently started reading books on her own with small words and it's a whole new world for her now.
Our Recent Favorite from the lot…
Varnika's love for books has grown twofold in the last years, all thanks to the lockdown. From planets to trees and from stars to cookbooks, the choices are pretty eclectic, to be honest, I learn from these more than her.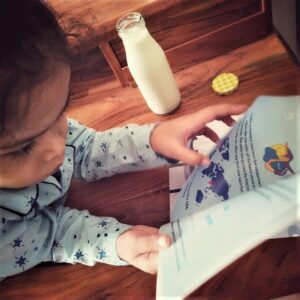 Why I love these books?
A few months back we got our hands on a book set from zaynandzoeyofficial and since then it has been read gazillion times already (you know what I am talking about). We got a set of four books:
? The chocolate factory
The complete process of chocolate making is described via a beautiful story. My little one was fascinated to know that chocolate actually comes from trees. The journey of chocolate from farm to table was beautiful to read.
?Visit a dairy farm
This is another one that she thoroughly enjoys. She has seen packets of milk at home but how this milk comes to this stage was quite a read for her. Now, she knows the difference between skimmed and full cream milk. She loves explaining these to her grandparents.
? The journey of sugar
The journey of sugar somehow had her least interest. She hasn't seen sugarcane yet and her questionnaire was stuck on that point (this is one curious kid). We have kept it aside and will introduce it to her in a few days again.
? Learn how paper is made
If I have to pick my favorite one from the four then this one has to be on top. My five-year-old absolutely loves drawing and painting but making her understand the value of each page or how it is made brought a big change in her.
This series of products explore age-appropriate learning concepts in a fun and engaging manner. Their vision is to create books and games that make learning fun and engaging for children. These are easily available on Amazon at a reasonable price. There are various interesting topics that these books focus on and the language is pretty easy for kids to understand. Each book helps you understand the process of the product.
The quality of the material used for these books is amazing and bright colors make it all the more interesting to grab our little one's attention. I have hidden the last one and will take it out next month in order to keep the excitement going for new books.
The chocolate one got her most adorable reaction when she realized there are trees/fruits involved in the process and one of the main Ingredients is actually not sweet in taste. If you are looking for books for your little one then don't miss out on zaynandzoeyofficial books and I promise, your little ones are going to love these.
About the brand
Founder:
Zayn & Zoey was founded by Yuti Jhaveri. Yuti obtained her Bachelor's degree in Biomedical Engineering from Vanderbilt University (USA) and Masters's degree from Northwestern University (USA). She began her career with a healthcare research consultancy, after which she entered the stock market and has been managing investment portfolios for over seven years. In 2018, she decided to venture into children's books with the Zayn & Zoey brand.
Writer & Editor:
Tvisha is an Instructional Designer. After a successful stint in corporate eLearning for nine years, she started working on children's educational and recreational literature.  A mother of two, Tvisha stresses that her ideas for stories and structures come from the incredible experiences that she shares with her own children.
Please do not forget to subscribe to our newsletter and we promise not to spam you. Do not forget to check our section on Fiction books. Also, if you like my work, don't forget to follow me on INSTAGRAM.
Please follow and like us: